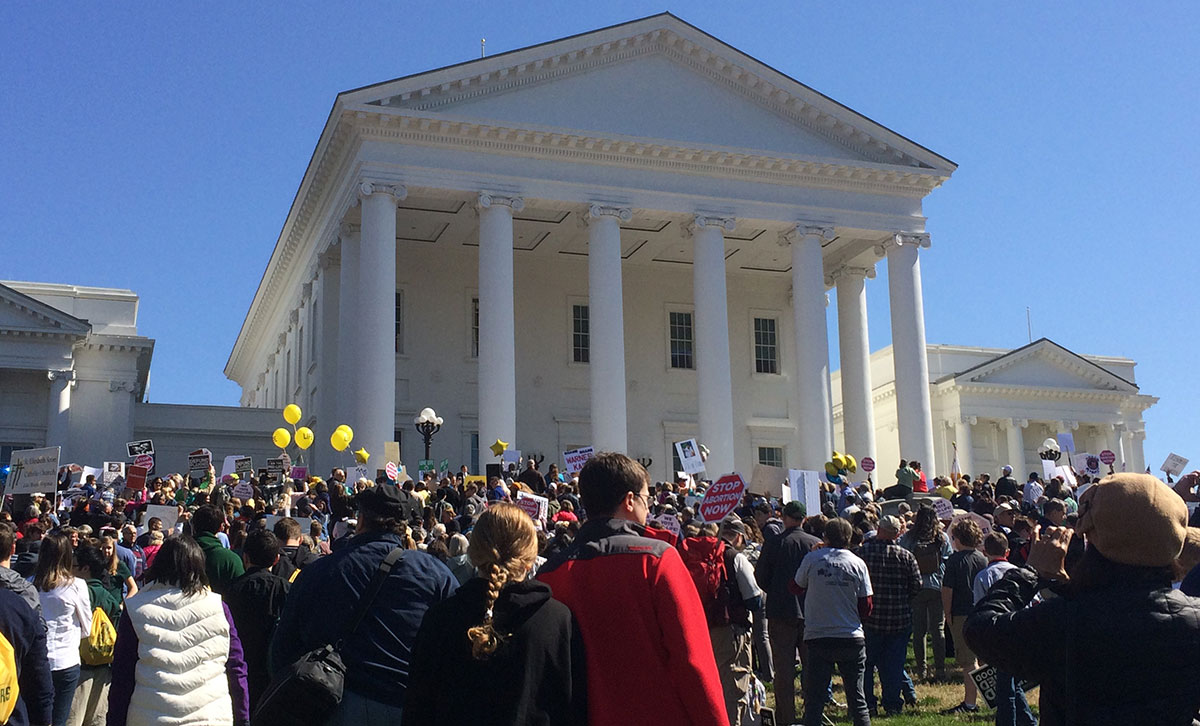 Join us for the Virginia March for Life
Virginia is facing a pivotal moment in our Commonwealth's history. Legislation like that seen in New York is being considered in Virginia. Bills were filed this year which would have removed most restrictions on late term abortions of healthy children. Bills were also filed that would have made abortion a "fundamental right," and would have required private health insurance plans to provide and pay for abortions in Virginia. Governor Northam endorsed this extreme pro-abortion legislation; even going so far as to endorse this kind of legislation in a radio interview, where he made statements that shocked the Nation. Thankfully, the anti-life legislation failed this year. It's critical that every pro-life Virginian take a stand for life at the March.
Learn more about the anti-life legislation Virginia faced this past 2019 session.
Virginia March for Life Events
7:00 a.m.
Mass celebrated by the Most Reverend Michael F. Burbidge, Bishop of Arlington
Cathedral of St. Thomas More 
3901 Cathedral Lane, Arlington, VA 22203
(For those who will attend the March, as well as for those who may not be able to travel to Richmond but who wish to participate in a spiritual way in the cause of promoting a greater respect for life)
---
9:00 a.m.
Mass celebrated by the Most Reverend Barry C. Knestout, Bishop of Richmond
Greater Richmond Convention Center (location information)
Exhibit Hall A
403 N. Third St.
Richmond, VA 23219
(Location changed from Saint Peter's Catholic Church to the Convention Center due to increased attendance. The Convention Center is only a five block walk to the State Capitol where Rally and March will take place.)
---
11:00 a.m.
Rally at the Capitol
Virginia State Capitol
1000 Bank St. Richmond, VA 23219
(In front of Capitol steps)
---
12:00 p.m.
March
Starts immediately after the Rally at the Capitol
Virginia State Capitol *
1000 Bank St. Richmond, VA 23219
See the March route »
---
2:00 p.m. – 3:00 p.m.
Richmond 101
Greater Richmond Convention Center
Lecture Hall, B10
403 N. Third St., Richmond, VA 23219
Richmond 101 is a grassroots seminar designed for attendees at the Virginia March for Life to get in-depth training on how to be an effective pro-life advocate at the state and local level. It's free, but registration is required. Register now »
Join the Virginia Catholic Conference network to receive Virginia March for Life updates. For questions, please contact Felicia@vacatholic.org.
Will signs be provided?
We encourage you to be creative and bring your own signs! It is likely that many groups will have signs available as well. You can find sign ideas at March for Life.
Is registration required?
No; registration is not required and there are no tickets for this event – we hope every pro-life Virginian will attend! We do encourage you to join our Virginia Catholic Conference network, so that you can be added to our list to receive information about this event and other legislative agenda items. You can join our network.
Where should our buses drop off and pick up participants?
UPDATED Bus Drop off/Pick up information:
Buses should drop off groups on 9th St. OR Bank Street, between N 9th St. and N 10th St, known as the pedestrian plaza.
For handicap and stroller accessibility, participants should be dropped off on N 9th Street at Grace St.
Buses will return to pick up their passengers on 9th St. Buses will be allowed to park on either side of the street on N 9th, Grace (between 8th and 9th), and Franklin (between 8th and 9th).
Group leaders should have direct phone or text communication with their drivers. Additionally, we recommend placing an identifying sign, flag, or poster on your bus for easier identification at pick up time.
Is bus parking available?
UPDATED Bus Parking information:
Buses that drop off groups at the Capitol extension on Bank Street can unload inside the pedestrian plaza. After unloading passengers, buses should proceed to the Baseball Stadium for the Richmond Flying Squirrels. The address is 3001 N. Boulevard and the Blue Lot is reserved for March for Life buses.
If the Stadium Blue Lot fills up, there is additional overflow bus parking at the Capitol Square Auxiliary Bus Parking Facility, located at 2400 W. Leigh St. Richmond, VA 23220. Download a printable map on the Virginia General Assembly website.
What are parking options for vehicles?
Please note there is no public parking on the Capitol Square grounds.
Greater Richmond Convention Center is a good option for parking – it is a just a 10 minute walk to the Capitol Square grounds. The address for the Parking Garage of the Convention Center is 351 N. Third St., Richmond, VA 23219. More detailed directions can be found HERE. Cost is $7.00 per vehicle for the entire day.
Public Parking: A limited number of metered public parking spaces (2 hours) are on Bank Street, between Governor and 14th Streets, on the south side of Main Street, between 9th and 12th Streets and on 12th Street between Main and Bank Streets.
Pay parking lots and decks are nearby on 8th and Grace Streets and 7th and Marshall Streets.
Downloadable maps of nearby parking lots and decks are available, as well as rates for these areas.
Note: Due to ongoing construction projects in Downtown Richmond, some parking lots listed on the links above may not exist any longer. If you have any questions about parking lots in the Capitol vicinity, please call the Capitol Tour Desk at (804) 698-1788.