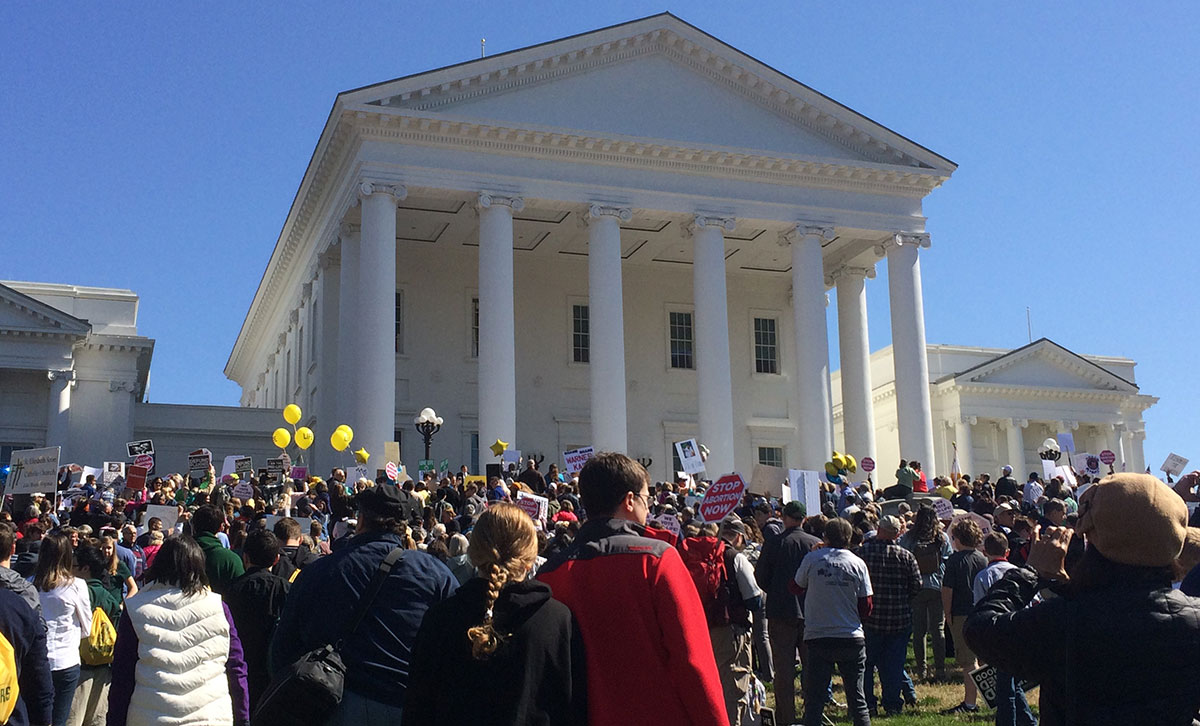 The first annual Virginia March for Life was a huge success, with Virginians from around the state of all ages coming together to fight for life on a blessed beautiful spring day. It was a powerful day as close to 7,000 people descended upon the Capitol marching for the sanctity of every human life. Thank you to everyone who came and witnessed to the truth. Our elected officials heard you loud and clear!
We look forward to seeing you next year on February 13 at the 2020 Virginia March for Life. But remember, we need each and every one of you to be involved and advocating for life in the meantime! Join our network.
Register
While registration isn't required, it is helpful for us to know how many to expect. Click the link to register.
Volunteer
Volunteers are needed to help make the day run smoothly, please consider donating your time to make this the best state march for life yet in the commonwealth!
Talking Points and Advocacy Tools for Your Group
Will signs be provided?
We encourage you to be creative and bring your own signs! It is likely that many groups will have signs available as well. You can find sign ideas at March for Life.
Is registration required?
No; registration is not required and there are no tickets for this event – we hope every pro-life Virginian will attend! We do encourage you to join our Virginia Catholic Conference network, so that you can be added to our list to receive information about this event and other legislative agenda items. You can join our network.
Where should our buses drop off and pick up participants?
Those attending Mass:
The Greater Richmond Convention Center is located on 403 N 3rd Street, a few blocks from the Capitol and the rally location so it will be easily walkable. Buses can drop off at the Convention Center entrance located on 5th street. The Mass will take place in the Grand Ballroom.
Those NOT attending Mass:
The address of Capitol Square is 1000 Bank Street. Buses should drop off/pick up groups on Bank Street, between N 9th St. and N 10th St, known as the pedestrian plaza. For handicap and stroller accessibility, participants should be dropped off at Grace St. and N 9th St.
Buses that drop off groups at the Capitol extension on Bank Street can unload inside the pedestrian plaza, then park at the Capitol Square Auxiliary Bus Parking Facility (see more info below).
Buses will return to pick up their passengers along the traffic circle around the equestrian Washington monument located inside the Capitol Square Gate at 9th and Grace streets, one block uphill from (north of) the pedestrian plaza. Group leaders will need to have direct phone or text communication with their drivers, since buses will not be able to park on or next to Capitol Square.
Is bus parking available?
Buses may park at the Flying Squirrel's Stadium Green Lot located at 3001 N Arthur Ashe Blvd, Richmond, VA 23220. A map is available HERE.
What are parking options for vehicles?
Please note there is no public parking on the Capitol Square grounds.
Greater Richmond Convention Center is a good option for parking – it is a just a 10 minute walk to the Capitol Square grounds. The address for the Parking Garage of the Convention Center is 351 N. Third St., Richmond, VA 23219. More detailed directions can be found HERE. Cost is $7.00 per vehicle for the entire day.
Public Parking: A limited number of metered public parking spaces (2 hours) are on Bank Street, between Governor and 14th Streets, on the south side of Main Street, between 9th and 12th Streets and on 12th Street between Main and Bank Streets.
Pay parking lots and decks are nearby on 8th and Grace Streets and 7th and Marshall Streets.
Downloadable maps of nearby parking lots and decks are available, as well as rates for these areas.
Note: Due to ongoing construction projects in Downtown Richmond, some parking lots listed on the links above may not exist any longer. If you have any questions about parking lots in the Capitol vicinity, please call the Capitol Tour Desk at (804) 698-1788.