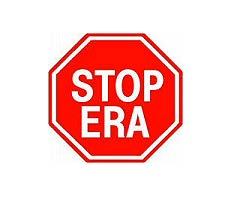 Equal Rights Amendment Hurts Women
Both Born and Unborn
The ERA at first glance appears to be a neutral measure advocating for the equality of women which is a worthy endeavor; however, the ambiguity of the language disguises significant negative consequences and legal uncertainty particularly when it comes to protecting the unborn.
---
MOOT:
The ERA's ratification dead-line passed over 30 years ago, rendering it legally moot. When the negative impacts of the ERA became clear, 5 states rescinded their ratifications.
UNINTENDED CONSEQUENCES:
Legal challenges and uncertainty would arise over the lawfulness of programs and facilities that serve and assist women exclusively.
ABORTION IMPLICATIONS:
In New Mexico, the ERA arguments of NARAL and Planned Parenthood succeeded. The New Mexico Supreme Court unanimously ruled, on the basis of its state ERA, that denial of taxpayer funding for abortions is "sex discrimination" thereby requiring taxpayer funded abortions.
BETTER WAYS TO PROTECT WOMEN:
Well drafted unambiguous legislation seeking to correct specific problems facing women would be more effective and create significantly less confusion.
Join our email network
Imagine 700,000 Virginia Catholics standing together for life, justice, family and the common good.