Virginia Vespers: Evening Prayer for the Commonwealth
2019 Virginia Vespers: Evening Prayer for the Commonwealth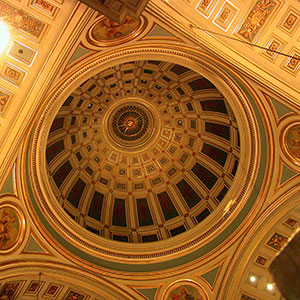 The Arlington and Richmond dioceses invited all to come together for dialogue, prayer with, and for, elected leaders and Virginia on February 12, 2019 at the Cathedral of the Sacred Heart in Richmond.
This special evening brought people of all faiths and public leaders together for evening prayer and reflection led by the bishops, followed by a wine and appetizers reception.
2019 Vespers
Click the arrows to scroll through the photos below.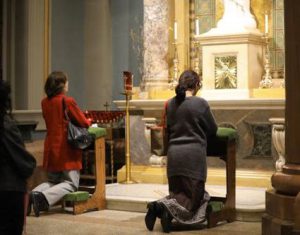 In 2018, Arlington Bishop Michael Burbidge and Richmond Bishop Barry Knestout welcomed public officials, Catholic clergy, parishioners and people of all faiths to the historic Cathedral of the Sacred Heart, Richmond, to pray for and with our legislators and the people of Virginia. Prayers were offered in English, Spanish, Tagalog, Korean and Vietnamese, a reflection of the Church's universal nature. Choirs from All Saints Catholic School, Benedictine College Preparatory School, Saint Gertrude High School and the Cathedral's Schola Cantorum sang sacred song during this ancient evening prayer liturgy. A wine and appetizer reception followed. See photos from the 2018 Virginia Vespers »
---
The late Bishop Francis X. DiLorenzo and then-Bishop (now Emeritus) Paul S. Loverde hosted the first-ever prayer liturgy for the needs of the Commonwealth in 2016. Among the participants that first year were Governor Terry McAuliffe, state legislators, clergy, educators and parishioners – from different parties and other faiths. The tradition continued in 2017, with Bishop Michael F. Burbidge joining Bishop DiLorenzo and participants in prayer for Virginia.