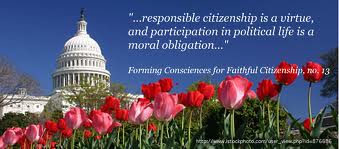 In a few days, Virginia voters have the opportunity to vote for candidates to represent the state in the U.S. House of Representatives and the U.S. Senate.  While many of us are no doubt weary of the barrage of negative ads and sound bites, this shouldn't be an opportunity to tune out. The U.S. Conference of Catholic Bishops reminds us in Faithful Citizenship that "In the Catholic Tradition, responsible citizenship is a virtue, and participation in political life is a moral obligation."
But if we are to participate in political life in order to advance the common good and a just ordering of society, our conscience must be properly formed. To that end, the Virginia Catholic Conference offers these pre-election resources below to assist Catholics in the Commonwealth in forming their consciences for faithful citizenship:
Bishops' pre-election statement: In this statement, Bishop Francis DiLorenzo of Richmond and Bishop Paul Loverde of Arlington remind Virginia Catholics that conscience formation should follow a three-part framework, emphasizing that while many issues are important, not all issues have equal moral weight. The statement is also available in Spanish.
Side-by-Side comparison of U.S. Senate candidates: While candidates may not be completing issue surveys, the Conference has compiled information about the candidates' views on issues important to Catholics in a side-by-side comparison of Sen. Mark Warner and challengers Ed Gillespie and Robert Sarvis. We used candidate statements from their campaign websites, voting records or various media sources to provide this important voter information.
Candidate questions: Increasingly, candidates are refusing to complete issue surveys, but it's still important to know where candidates stand on the issues. This year we presented voters a set of questions about current topics of federal debate that are of particular interest to many Catholics. We encourage you to email these questions to candidates on your ballot.  Find candidates' contact information here.
7th District Congressional candidate interviews: In September, Conference executive director Jeff Caruso and Catholic Virginian editor Steve Neill interviewed Dave Brat, Jack Trammell, and James Carr, all candidates for the congressional seat formerly held by Eric Cantor. The interviews provided the candidates the opportunity to share their views on a wide variety of issues with Catholics in the 7th
The resources described above are authorized for parish use with the pastor's permission.  Please note too that only voter-education materials prepared by the U.S. Conference of Catholic Bishops or the Virginia Catholic Conference are authorized by the Dioceses of Arlington and Richmond for parish use.
On behalf of the Bishops, the Conference urges all Catholics in Virginia to take advantage of these resources available to assist in forming consciences for faithful citizenship, to share them with your family, friends and fellow parishioners, and, most importantly, to vote this coming Tuesday, November 4th!