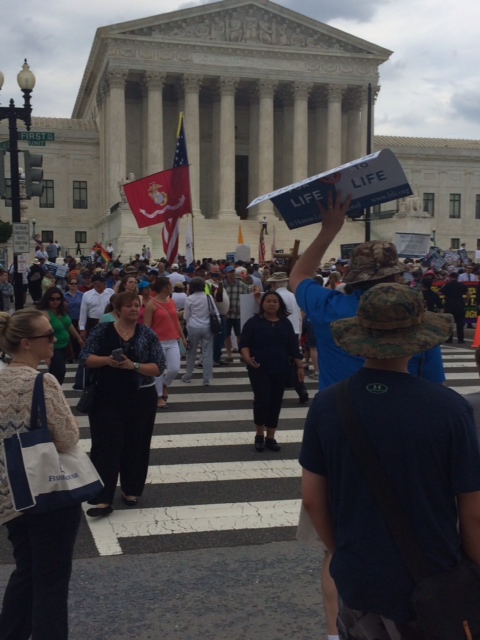 On Monday, the U.S. Supreme Court refused to take up appeals from five states whose marriage laws have been overturned by U.S. Circuit Courts in the 4th, 7th, and 10th districts.  The High Court's decision not to decide—at least for now—represents a serious setback in the defense of marriage, and a few short hours later same-sex couples were being legally wed at courthouses across the Commonwealth.  In a statement, Bishop Francis X. DiLorenzo of Richmond and Bishop Paul S. Loverde of Arlington expressed their "deep disappointment" in the decision, noting that allowing same-sex marriages reflects "a fundamental misunderstanding of the intrinsic nature of marriage."
Many had expected the Supreme Court to take up the matter this term to decide once and for all whether the activism displayed by lower courts in overturning the will of millions of voters and redefining an institution that predates the state and religion were proper exercises of judicial authority.  In July, the 4th Circuit in Richmond upheld a District Court ruling overturning Virginia voters who in 2006 affirmed marriage as the union of one man and one woman. Judges in the 7th and 10th Circuits decided likewise. Afterward, Virginia, Indiana, Oklahoma, Utah and Wisconsin sought a final ruling from the Supreme Court.
"Marriage has been affirmed by countless generations because it uniquely benefits the common good by recognizing the union of two equal but complementary individuals –that is, a man and a woman –who, by their life-giving union, may create a family…., " the Bishops said. "Therefore, Virginia's constitution rightly recognized the unique contributions marriage makes to children and to the common good."
Despite the Supreme Court's inaction, the argument about marriage is not over. The Supreme Court could decide to take up the issue later, as the 6th Circuit Court of Appeals is widely expected to uphold marriage statutes in Kentucky, Michigan, Ohio and Tennessee.  When appeals courts render differing opinions, the Supreme Court often settles the issue.
"As Bishops, we will continue to affirm the truth about marriage, the lifelong union of one man and one woman, as well as its essential importance to the common good. As pastors, teachers, and faith leaders, we can do nothing less. It is our fervent hope that the Supreme Court will reconsider this fundamental issue in the future," the Bishops said.
During this month of the Rosary, let us appeal to our Blessed Mother for the strength to advocate and affirm her Son's truth about marriage and family.