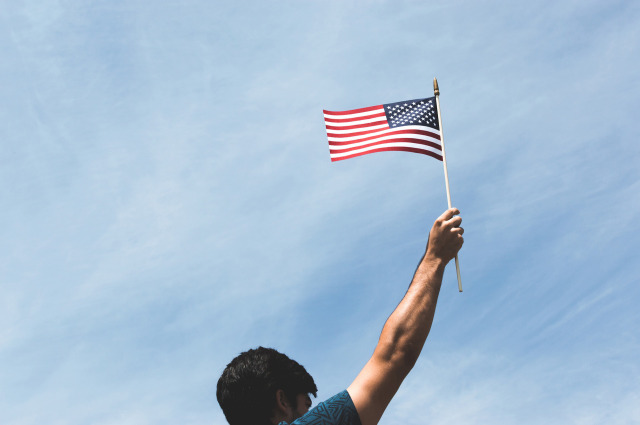 By Jeff Caruso, Executive Director, Virginia Catholic Conference
The Catholic Church in the U.S. is in the midst of its fifth annual Fortnight for Freedom – 14 days of prayer, education and action for religious freedom in our country and throughout the world.
Freedom means different things to different people. For some, the word conjures up images of rugged individualists carving their own self-determined paths unencumbered by other people or things. Others invoke the term to support whatever side of a political issue they find themselves on. We often hear, "I'm for freedom, and those who are against me are trying to limit my freedom." And how many times have we heard someone say, "It's a free country, isn't it?" To some freedom has become a libertarian notion – a code word for "just leave me alone".
This past Sunday, however, St. Paul offered us a much different understanding of what it means to be truly free:
Brothers and sisters:
For freedom Christ set us free;
so stand firm and do not submit again to the yoke of slavery.

For you were called for freedom, brothers and sisters.
But do not use this freedom
as an opportunity for the flesh;
rather, serve one another through love.
For the whole law is fulfilled in one statement,
namely, You shall love your neighbor as yourself.
But if you go on biting and devouring one another,
beware that you are not consumed by one another.

I say, then: live by the Spirit
and you will certainly not gratify the desire of the flesh.
For the flesh has desires against the Spirit,
and the Spirit against the flesh;
these are opposed to each other,
so that you may not do what you want.
But if you are guided by the Spirit, you are not under the law.

GAL 5: 1, 13-18.
In other words, what freedom actually means is freedom to "live by the Spirit": to love one another, to give ourselves to others, to be unmoored from sin and selfishness. It means freedom to serve as witnesses to our faith.
This freedom to witness the faith through service is vital for both individuals and organizations. Here in Virginia, for example, Catholic ministries – such as schools, charities, nursing homes and hospitals – each year educate tens of thousands of Virginia's children; heal the sick; serve the poor and vulnerable through food banks, homeless shelters, mental health counseling and job training; and assist refugees and immigrants who are fleeing violence, persecution and extreme poverty. These agencies rely on the freedom St. Paul describes in order to do their great work to help the poorest and most vulnerable among us – that is, to serve. But in the wake of last year's U.S. Supreme Court decision requiring all states to issue marriage licenses to same-sex couples, increasingly the beliefs and practices of faith-based organizations are being pushed to the margins.
In response, the Church has intensified its efforts across the country to protect the freedom to serve. In our state, the bishops, through the Virginia Catholic Conference, championed legislation earlier this year that would have protected the right of religious organizations to follow their religious beliefs regarding marriage. The bill sought to ensure that faith-based charities and schools would not be penalized for following the understanding, embedded deep within our faith, that marriage is the union of a man and a woman. It would have guaranteed that these organizations would continue to have fair access to public resources – like tax exempt status, contracts, grants and licensure. In short, it would have ensured faith-based groups could not be punished because of what they believe about marriage. The measure was modeled after the First Amendment Defense Act, endorsed by the U.S. Conference of Catholic Bishops and now being considered by Congress. After intense debate, the General Assembly passed the bill, only to have Governor McAuliffe veto it.
The governor's veto was extremely disappointing, but we will continue our fight to preserve the freedom of faith-based organizations to serve. A faith-based entity does what it does, and is what it is, because of its faith. Telling a faith-based agency it cannot practice its beliefs would be like telling a pharmacy it could no longer provide medicine or telling Burger King to stop selling burgers.
Beliefs are meant to be practiced, and great works must not be severed from the faith that animates those works. Faith-based organizations seek the freedom to witness their beliefs by serving others and making our Commonwealth a better place. This freedom is worth fighting for because, as St. Paul wrote, "For freedom Christ set us free."
This blog originally appeared on Encourage and Teach, the blog of the Diocese of Arlington, and is reposted with permission.