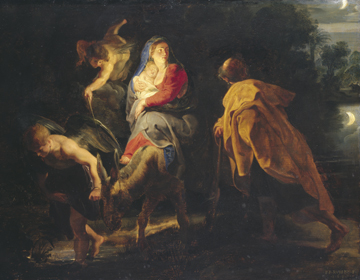 By Rev. Shay Auerbach, S.J.
I have the privilege of working in a parish that is predominantly Latino and immigrant.  At this time of year we have begun the traditional Posadas celebrations, a pre-Christmas novena common in Latino communities with origins in Mexico and Central America.
Every night in our parish, at eight different locations Mary and Joseph's search for lodging is reenacted.  The celebrations recall history and at the same time invite reflection that God still seeks "lodging" in the human race.  He longs to be welcomed into our hearts, our families, parishes and the wider community.
Part of the ritual includes knocking at the door of the home slated to receive the posada.  A sung exchange begins.  Those outside sing in Joseph's voice, begging for lodging for his very pregnant wife, tired from a long journey.  The response comes from the inside of the house, several times telling the pilgrims to go away, "leave at once, you might be criminals, we will beat you."  The outsiders are insistent and finally the hearts of those inside soften and welcome the "holy pilgrims" not just into the home but into their hearts as well.
The existential connection is unnerving.  Immigrants being called criminals, threatened with violence if they do not leave.  The solidarity strengthens.  Mary and Joseph were also rejected yet they did not despair.   The power of conversion is equally as remarkable.  Hardened hearts soften, closed doors open.  There is room for all and a celebration begins with a banquet for all.
Isn't this the essence of our faith?  God journeys to join the human race.  He faces rejection; even death.  Yet in the end, hearts are transformed and new life begins.
We remember Mary and Joseph looking for a place to stay.  Later we hear about them as a family fleeing Bethlehem to escape violence and join the Jewish diaspora, the vibrant Jewish immigrant community in Egypt.
On December 12, the Feast of Our Lady of Guadalupe, the US Bishops invited us to a day of prayer and solidarity with refugees and migrants.  During National Migration Week beginning on Epiphany Sunday (Jan. 8 – 14) the bishops again invite us as a church "to reflect on the circumstances confronting migrants, including immigrants, refugees, children, and victims and survivors of human trafficking".  We follow Pope Francis' call to create a culture of encounter—dialogue, open hearts and minds.
The coming celebrations join us in a profound way to an immigrant family who looked for a better life.  Our Christian life is rooted in the stories we hear in the next couple of weeks.  What better way to become more authentically Christian than to walk in solidarity with Mary and Joseph as they seek welcome, with the Holy Family as they journey to a new country.  What better way to pray, than to lift our voices with Joseph's pleading for welcome.  What more honest practice to welcome the God who wants to take on our flesh than to examine where our hearts are closed, where our minds are frozen, where our doors are bolted shut.
And as we celebrate God taking up residence in the human family, let us be hope for our brothers and sisters who still face rejection and still journey.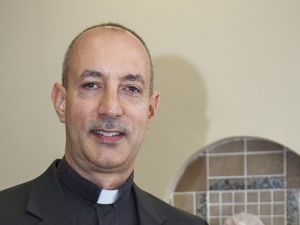 Fr. Shay Auerbach, S.J. is pastor of Sacred Heart parish in Richmond.  He is also president of the board of directors of Sacred Heart Center, a non-profit organization whose mission is "to create a hub for the Richmond Hispanic/Latino community which opens opportunities for economic and social integration, self-fulfillment, and community leadership development."