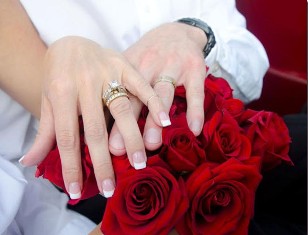 Last week, the movement to redefine marriage to include same-sex couples reached a crescendo in oral arguments presented before the U.S. Supreme Court.  The case, Obergefell v. Hodges, seeks to overturn a decision by the 6th Circuit Court of Appeals upholding marriage laws in Kentucky, Michigan, Ohio and Tennessee affirming marriage as the union between one man and one woman.
As Virginia's two Bishops stated in their 2006 Pastoral Letter on Marriage, "No religion, government, or individual has the right or the legitimate authority to alter the basic meaning and structure of marriage that has existed ever since the first man and woman were created."
To that end, the petitioners were met with skepticism from both liberal and conservative justices.  Justice Anthony Kennedy, considered the Court's swing vote, noted that marriage has been understood as the union of one man and one woman, an idea that "has been with us for millennia. And it—it's very difficult for the Court to say, oh, well, we—we know better."
Said Chief Justice John Roberts, "Every definition that I looked up, prior to about a dozen years ago, defined marriage as unity between a man and a woman as husband and wife….You're not seeking to join the institution, you're seeking to change what the institution is. The fundamental core of the institution is the opposite-sex relationship and you want to introduce into it a same-sex relationship."
Justice Stephen Breyer, a reliable  vote for the Court's liberal wing, added, "[heterosexual marriage] has been the law everywhere for thousands of years among people who were not discriminating even against gay people, and suddenly you want nine people outside the ballot box to require states that don't want to do it to change…what marriage is."
But perhaps the most illuminating and alarming admission in last week's arguments was the concession by Solicitor General Donald Verrilli in response to a question from Justice Alito as to whether a religiously affiliated school or university would jeopardize their non-profit status if they continued to affirm marriage as it has traditionally been known in the wake of a Supreme Court decision recognizing a right to same-sex marriage.
"It's certainly going to be an issue. I don't deny that. I don't deny that, Justice Alito," Verrilli responded. "It is—it is going to be an issue."
This stunning admission by the Solicitor General corroborates the concerns expressed by the U.S. Bishops in their amicus brief that redefining marriage poses serious threats to the ability of religious institutions, businesses, and individuals to conduct themselves in the public arena in ways consistent with their deeply held religious beliefs.   Examples of how redefining marriage has impacted religious freedom abound in both religious institutions and secular businesses.  For instance, in several states, Catholic Charities has been forced to stop providing adoption services, and business owners have been subject to legal action, fined—or worse—lost their businesses.
A Supreme Court decision affirming a constitutional right to same-sex "marriage" will have serious consequences for religious liberty rights.
As Archbishop Joseph Kurtz of Louisville, president of the USCCB, said in a statement, "Today is a moment of great consequence.…We pray that the justices will uphold the responsibility of states to protect the beautiful truth of marriage, which concerns the essential well-being of the nation, especially children….The Church will always defend this right and looks to people of good will to continue this debate with charity and civility."
The decision is expected in June.