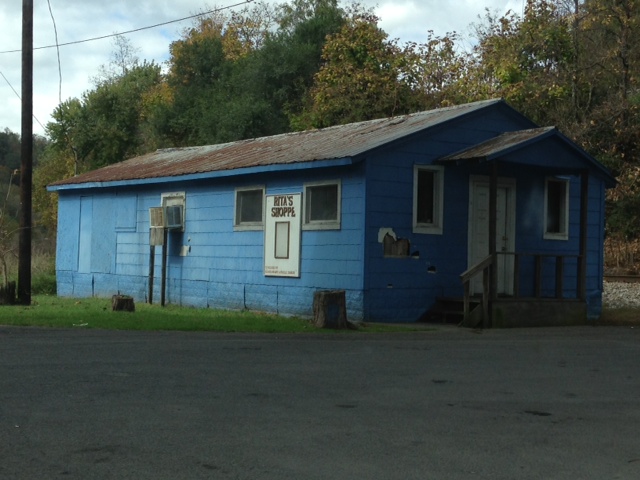 Rita's Shop, a thrift store run by Sacred Heart, Big Stone Gap
By Amanda Jay and Virginia Podboy
Roman Catholics have been in Appalachia for more than one hundred years.  Many were immigrants that came for jobs either in timber or coal. In 1945, several Glenmary priests came to Southwest Virginia to serve the Catholics in the area.  Congregation sizes have dwindled since the height of coal, but many vibrant parishes remain.  And while Appalachia has many challenges, these Catholics don't wait for outsiders to solve them.  The true hope for Appalachia is the willingness of neighbors and parishioners to take care of each other.
Sacred Heart Big Stone Gap parishioners noticed a desperate need in Wise County schools. Hunger is a pervasive issue across Southwest Virginia and in Wise County, 57% of children qualify for free or reduced lunch. Children who only qualified for reduced lunch (based on parents' income) were still unable to bring in money for lunch.   To address the need, parishioners opened and staff Rita's Shop– a thrift store that sells donated items for a low price.  Proceeds from Rita's Shop subsidize those children's lunches as well as other initiatives to help the poor in the area.
St. Mary of the Holy Family in the Richlands tackles a similar problem in a different way.  Tazewell County battles childhood hunger as well.  Parishioners at St. Mary's have started the Backpack Ministry to provide food for the weekend for needy children in four elementary schools. On Thursdays, enthusiastic volunteers stuff bags of food (food that children can make themselves, i.e. Chef Boyardee, Easy Mac, pudding cups, apples, etc.) and then drop the bags off at schools for teachers to place in children's backpacks.  The ministry has grown so much that the old rectory at St. Mary's has been converted into a warehouse and "bag-stuffing" room focused on serving needy children in the area.
Religious sisters from several orders have answered the call over the years and come to Appalachia. Sister Beth Davies, CND has lived in the coal camps and served the people for almost 40 years.  She has organized the people against plans to bring landfills to the mountains she has fought private prisons from entering southwest Virginia; and she has watched the prescription drug epidemic overtake the area.  Currently, she is an addiction counselor in Pennington Gap, Lee County.  Sister Beth is also a part of the Catholic Committee on Appalachia, which serve the needs of the Appalachian community. CCA also publishes pastoral letters to highlight the needs and solutions for the Appalachian community.  The most recent pastoral "At Home in the Web of Life (1995)" calls for sustainable communities in Appalachia: "These sustainable communities will conserve not waste, be simpler but better, keep most resources circulating locally, create sustainable livelihoods, support family life, protect the richness of nature, develop people spiritually, and follow God's hope."
There are many active parishes across Southwest Virginia (fortunately more than we can name here) that embody the idea of sustainable communities and work to serve the local needs. These parishes and their people offer many reasons to hope for progress and justice across Appalachia.
#