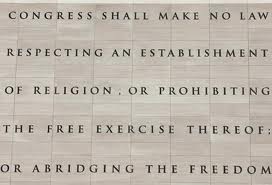 Week 2 of the prayer- and action-focused Fortnight for Freedom, called for by the U.S. Conference of Catholic Bishops, is about to begin. While the USCCB launched the initiative, Archbishop Chaput of Philadelphia reminds us that the fight to preserve religious liberty ultimately depends on us, the lay faithful, not our Bishops.
Of the many threats to religious freedom in America, the HHS contraceptive mandate is the most obvious example. It won't be just religious institutions affected. Many business owners who are also people of faith will have to provide coverage they deem immoral. But many Catholics work for secular, private-sector employers whose employee health plans already cover drugs and procedures that are contrary to Church teaching. They may fail to see the connection between the mandate and their personal freedom of religion.
The threat to religious liberty isn't limited to the HHS mandate. The issues of same-sex marriage, immigration and parental rights are already having an effect on religious liberty. Here are a few examples:
 Boston, San Francisco, the District of Columbia, and the State of Illinois have driven local Catholic Charities out of the business of providing adoption or foster care services—by revoking their licenses, by ending their government contracts, or both—because those Charities refused to violate their faith by placing children with same-sex couples or unmarried opposite-sex couples who cohabit.
 Several states have recently passed laws that forbid what they deem as "harboring" of undocumented immigrants—and what the Church deems Christian charity and pastoral care to these immigrants. Business leaders, educators and religious leaders successfully blocked parts of an Alabama law that would have criminalized administering sacraments or providing any assistance, such as food or shelter, or "harbor" to undocumented immigrants.
 In Massachusetts, a judge rejected a complaint brought by parents against the Lexington Public Schools, ruling that parents had no right to be notified by the school before teaching their children about homosexuality, nor could they opt out of such lessons.
 Washington State Attorney General Robert Ferguson has filed a consumer protection lawsuit against Barronelle Stutzman, owner of Arlene's Flowers & Gifts, for refusing, on the basis of her religious beliefs, to provide flowers to Rob Ingersoll and his partner for a homosexual wedding. Ferguson charged Stutzman with violating the Consumer Protection Act, which bars merchants from discriminating on the basis of sexual orientation.
Our religious liberty is being threatened. If these threats continue unchecked, the ability of the Church to fulfill its charitable mission, and of individuals to express and live their faith in the public square, will be diminished even further. Let's all pray for and stand up for religious liberty. As Archbishop Lori reminded us during the Fortnight's opening Mass last weekend in Baltimore, "how much hangs in the balance!"
###